After looking at the least popular 0XP cards last week (Building the least popular decks), this week it's time to look at the Akrham Horror heavy hitters: what do we turn to when we have 5XP to spend?
The Neutral 5XP Cards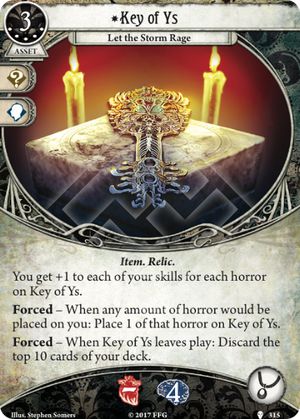 Unsurprisingly our chart tops out with the neutral cards. A card many consider to "broken" (I prefer to say "fun") is number one: The Key of Ys. At 0.43 decks per day we see a new published deck every 2 days or so. Not bad. At number 2 is the Timeworn Brand (0.23 dpd). Red Gloved Man can't quite make it an all-Neutral top 3: it's at number 4 with 0.13dpd.
The top Faction 5XP cards
I'm more interested in the Faction cards than the Neutral cards, so let's look in detail at those.
I'm delighted to say the top card is my favourite: The Flamethrower. I've had a hoot using this with Zoey. It takes a while to get the engine going (loading it with a huge amount of ammo, being well-prepared, and then using Taunt to engage everything) but if you pull it off, killing vast swathes of enemies is an unforgettable story moment.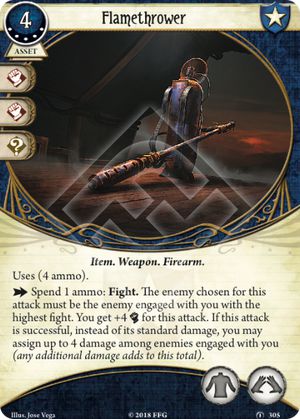 Unsurprisingly, it's our heavy-hitter Guardians using this card:
Following this heavy weapon is the mystic's special spell, Shrivelling. At level 5 this is super powerful, and by the time your deck contains this card, you've probably got many ways to handle the potential downsides. We're seeing this most in Akachi decks:
Finally at number 3 is Seal of the Elder Sign. It's expensive, but it's an exquisite moment of pleasure to play this on a vital test. Unsurprisingly, we find it most in an investigator who has a super strong elder-sign bonus, Father Mateo:
The bottom Faction 5XP cards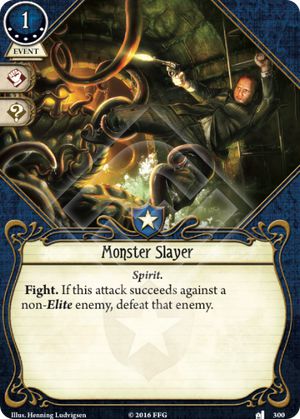 Why no love for Ward of Protection, Monster Slayer and Armor of Ardenne? They're barely being used in published decks. Have you used these cards, and enjoyed them? Let me know.
Armor of Ardenne gets heat because there's not much need to save damage for Guardians. Carolyn would like it if only she could take it.
Interactive views
As always, you can go interact with the data yourself. Click this link to explore most popular cards, and you can break it down by any XP, faction, investigator, campaign, trait or card type.
Other posts in this series
Most popular investigators (raw numbers)